Monday, August 13, 2012
8:56 AM | Posted by Jill |
|
Edit Post
Dear Jill,
Next time you get the bright idea to sign up for the
Mud
Sand Run, just read this post and remember why you are crazy-cakes and just because you have one of those "I just drank 4 cups of coffee and can conquer the world" buzzes doesn't mean you should spend $40 to be tortured.
This past Saturday you could have grabbed your popcorn and been entertained watching me do this:
Yes, my back is that white. Yes, I live at the beach. Don't judge
Thankfully, John and his camera were missing when I was stumbling over sand dunes like this one: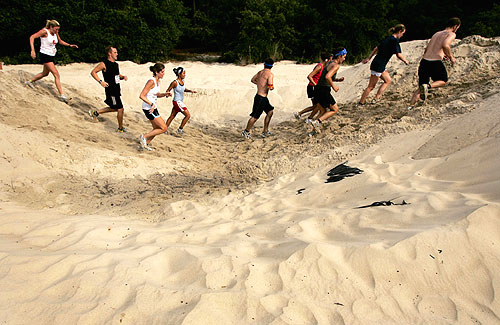 Sand. Miles and miles of DEEP sand.
I ran my first Mud Run back in 2006ish with a team. My friend April called me at the last minute because one of her teammates was sick and had to drop out. "It's only an 8k", she said. I agreed and thought "easy peasy".
Not.
I arrived and realized three very important details that she had conveniently withheld:
1. Her teammates (classmates from Eastern Virginia Medical School - I mean, how in shape can Med students be?) were all former college runners. Like the NCAA Division 1 variety. And in between their rounds and classes they were somehow able to stay in amazing shape. Bitches.
2. This 8k that she had so breezily described was in sand. Deep sand. Miles and miles of it. No reefs here, folks. Every stride goes about 6 inches into deep, loose, miserable sand. I am convinced they only call it the "Mud Run" so that people will actually sign up. I'm sure getting thousands of people to agree to pay to run sand dunes all morning would be pretty challenging.
3. We have to start AND finish together. No averaging times. So not only am I having to run this torturous 8k of sand, but I have to feel like a total jackass doing it because I was, without a shadow of a doubt, the anchor. And when I say anchor I mean it literally. I was holding them back, in place pretty much. They would run a mile and then stop and wait for my slow non-NCAA-runner butt.
I mean, don't most of us run these mid distance runs as an excuse to drink at 9 in the morning? Or so that we can eat our Thanksgiving dinner without guilt? An 8k isn't for glory most of the time, and if I am going to drag myself out of bed for a 7AM start then I absolutely want to drink afterward. Not feel like I just ran a full marathon without the glory. All I wanted to do was get in the shower and then go to bed.
Anyway, the point of my diatribe is that I told my husband after my first Mud Run that I would never ever ever do that run again. Ever. That I would rather do a full 26 miles than 5 miles in unforgiving sand again. But as runners well know, that race amnesia is strong. You forget about the pain a day later and start surfing the Internet for your next conquest, your next medal, your next opportunity to have a beer at 9 AM.
This year I didn't run with a team which was actually
much
easier because I didn't feel like I had to kill myself to keep up with anyone (I should have probably realized I was crazy when I asked my Facebook friends if anyone wanted to run with me and it was all **crickets**). It was for a good cause, the Armed Services YMCA, and they raise a really good amount of money each year. This race is truly for charity - I read that 83 cents of each dollar charged actually goes back to the ASYMCA. Because of this there are no medals, meager offerings at
the finish
line (bananas, water,
Japanese Beer Yeungling
), and the t-shirts pretty much stink. But honestly, it is refreshing to run a race where it isn't about the cool t-shirts and medals that can double as a beer opener.
But still, Jill, you don't want to run this race again. Really. Well, maybe... Who knows... We'll see.
Popular Posts
The morning of September 22, 2013 was a typical one for Theresa Jones. She was 8 and a half months into a deployment that had been extende...

Last year my girlfriend Sarah asked her military friends to write a letter to her beloved babysitter who was marrying an Air Force officer. ...

For the past nine months or so I have been working with Blue Star Families on a book that will be published very shortly.  The book is a de...

Dear Congress, While the media pundits talk about waiting for one side to "blink", I think it is safe to say that the rest of Am...

An article written by David Wood that was published in late January  by Huffington Post has gained serious steam within the military commu...

Blog Archive